Friday, March 22, 2019  7:00 PM
Sjolund Auditorium, North Medford High School
1900 Keene Way Drive, Medford, OR 97504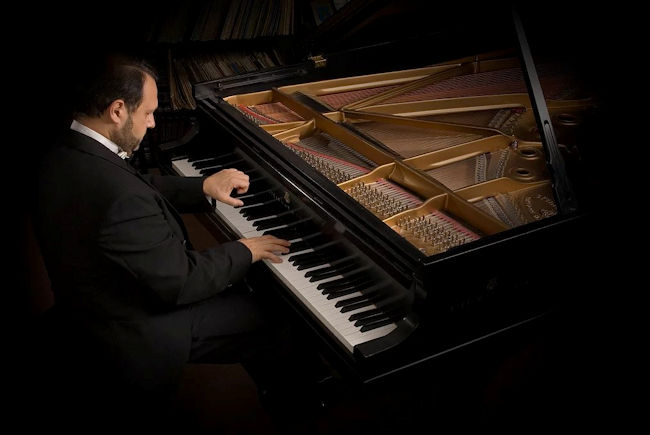 Russian pianist Eugene Skovorodnikov will be performing  a diverse program of renowned classical pieces selecting among works by composers such as Haydn, Schubert, Brahms, Mozart, Tchaikovsky and Rachmaninoff. Reviewers have hailed Mr. Skovorodnikov's skill and the quality of his performances, exclaiming: "[Mr. Skovorodnikov] captured the attention of the audience with his perfect mastery and polished sense of style, full of life and romanticism… he played with the power and colours of a symphony orchestra, with fluent and flawless virtuosity".  [Nevsky Times, Russia]
Eugene Skovorodnikov is recognized by audiences throughout Europe, Canada, U.S., Latin America, Asia and the former Soviet Union for his stylistic interpretation and his technical brilliance. Born in Ukraine, he is a prize winner of "N'Lisenko" National Piano Competition (Ukraine).
Eugene Skovorodnikov took his post-graduate course at the St. Petersburg Conservatory (Russia) where he remained teaching until 1990 when he left the country. In 2006 he was awarded an Honourary Doctorate in Musical Arts by Kharkov State University of Arts, Ukraine for his achievements in performance and teaching.
He was invited to perform in famous concert halls of the world such as St. Petersburg Philharmonic Hall (St. Petersburg, Russia), Chan Centre for Performing Arts (Vancouver, Canada), Theatre Bibiena (Mantova, Italy), Grand Theatre (Shenzhen, China), Xinghai Concert Hall (Guangzhou, China), Centre for the Performing Arts (Kfar-Saba, Israel), Ghione Theatre (Rome, Italy), Kharkov Philharmonic Hall (Ukraine), and Schwarts Arts Centre (Atlanta, USA).
Eugene Skovorodnikov is concertizing extensively as solo pianist and as chamber performer with such artists as Italian virtuoso flautist Stefano Maffizzoni; Russian/French violinist Alexandre Brussilovsky, internationally acclaimed clarinetist Julian Milkis, world renowned cellist Mischa Maisky, and many others, and with symphony orchestras. He was invited and reinvited to perform with such symphony orchestras as Sinfonia, West Coast Symphony (Canada), Kharkov Philharmonic, L'vov Philharmonic, Donetsk Philharmonic (Ukraine), Irkutsk Chamber Orchestra, St. Petersburg Philharmonic, Hermitage Chamber Orchestra (Russia), Mexican State Orchestra, Monterrey Symphony Orchestra (Mexico), Grosseto Symphony (Italy) and many others.
Purchase Individual Concert Tickets to THIS CONCERT