Sunday, March 25, 2018 – 3:00PM
Sjolund Auditorium, North Medford High School
1900 Keene Way Drive, Medford, OR 97504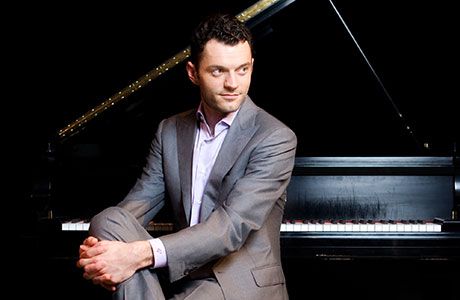 Concert pianist Steven Vanhauwaert, a Belgian native, plays a solo repertoire of works by Schumann, Schubert, Liszt, Chopin, and Debussy.
Mr. Vanhauwaert has appeared in solo recitals at the world's leading venues such as the Concertgebouw in Brugge, Segerstrom Hall in Costa Mesa, Bovard Auditorium in Los Angeles, the Singel in Antwerp, the Great Hall of the Brussels Conservatory, the Great Hall of the Budapest Liszt Conservatory, as well as numerous other prestigious venues in Bulgaria, Hungary, the US, the Netherlands, France, Brazil, Canada, Israel, the UK, Austria, and Spain.
Mr. Vanhauwaert enjoys collaborating with other musicians and is a frequent guest at chamber music festivals around the world, including MusikZentral, Musikfest Schloss Wonfurt, Jerusalem Music Center, Arizona Friends of Chamber Music, Malibu Coast Music Festival, le Salon de Musiques, Salastina Festival, Chicago Duo Piano Festival, Classical Encounters, Fine Artists Series, Sundays-at-Two, Festival of Flanders, Chamber Music Society of North County, Jacaranda, Mammoth Lakes Music Festival, High Desert Chamber Music, Nevada Chamber Music Festival, Dilijan, the Riverside Villa-Lobos Festival, The Music Guild series, etc.
He is the recipient of the Maurice Lefranc award, the Rotary Prize, the Galiot Prize, and the Grand Prize at the 2004 Los Angeles International Liszt Competition. His discography includes a solo album with works by Schumann, Schubert, Liszt, Chopin, and Debussy; two 4hand-discs featuring arrangements of Stravinsky's popular ballets Petrushka and the Le Sacre du Printemps, as well as works by Satie, Ravel, Poulenc and Casella (with his 4handsLA partner Danny Holt), and a disc with works by L.A.-based composer Lior Rosner for Bridge Records. His solo disc, Dispersion, with works by works by Schulhoff, Casella, Hindemith, Vierne, and a world premiere recording of the piano sonata by Belgian composer Raymond Moulaert was recently released on Editions Hortus.
Mr. Vanhauwaert is a Steinway Artist.
Buy SEASON SUBSCRIPTION