Sunday, November 27, 2016 – 3:00PM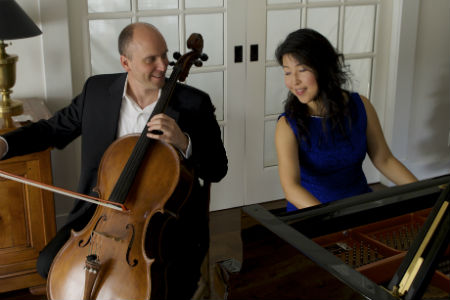 "Brilliant and dynamic, cellist Michal Palzewics and pianist Chiharu Sai join their musical forces together to create an exciting duo"
Passionate about exploring the great repertoire written for cello and piano.
Phenomenal at presenting arrangements of music that deserve to be heard.
Michal and Chiharu have performed to a great acclaim at prestigious venues such as Weill Recital Hall at Carnegie Hall in NYC, Wigmore Hall in England, Opera City Hall in Tokyo.Both attended Manhattan School of Music after completing their music conservatory training in their countries (Michal in Poland and Chiharu in Japan), moved from New York City to the West Coast, and joined the music faculty at Southern Oregon University in recent years.
AN AFTERNOON OF ENCHANTED MELODIES
Sonata in E Major
François Francoeur
(1698-1787)
I. Adagio cantabile
II. Allegro vivo
III. Tempo di gavotta
IV. Largo cantabile
V. Gigue: Allegro vivace
Nocturne Op. 48 No. 2
Frédéric Chopin
(1810-1849)
Réverie
Claude Debussy
(1862-1918)
Hungarian Rhapsody
David Popper
(1843-1913)
INTERMISSION
Romanian Folk Dances
Béla Bartók
(1881-1945)
1. Stick Dance
2. Sash Dance
3. In One Spot
4. Dance from Bucsum
5. Romanian Polka
6. Fast Dance
Cello Concerto No. 1 in A Minor Opus 33
Camille Saint-Saëns
(1835-1921)
Allegro non troppo – Allegro molto – Tempo I – Allegretto con moto –Tempo I – Più Allegro – Molto Allegro